Preproduction CGI image shown.
Meet the Broncos
The Bronco Family is vast, with a reach as far as you're willing to take it and a legacy that spans generations.The entire Bronco family is designed, engineered and built for adventure. So get ready to mount up and get dirty because the one and only legend is making its long awaited return.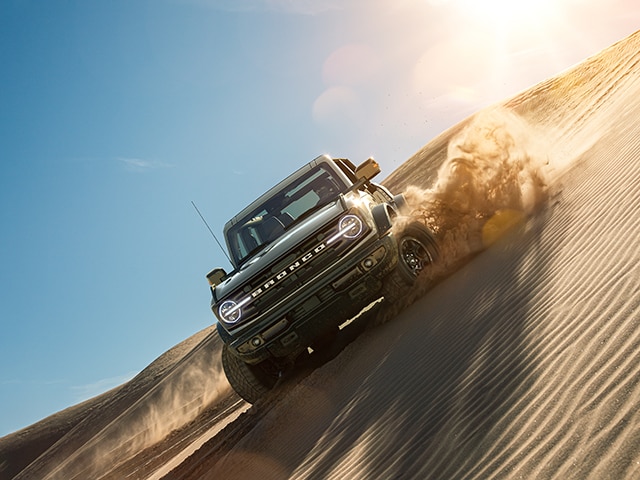 The 2021 Bronco
There's a whole world out there just waiting to be discovered. To find it you have to break rules, push boundaries and climb over the barriers in your way. With its relentless toughness and durability, the all-new Bronco was built to carry outdoor enthusiasts to wherever the wilderness calls. Available in two- or four-door models.
Preproduction CGI image shown. Available beginning spring 2021.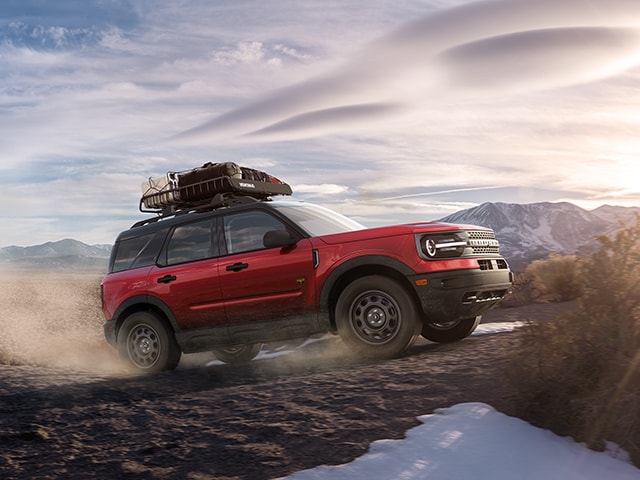 The 2021 Bronco Sport
Meet the latest in the family. The all-new Bronco Sport is your wilderness guide with four unique series engineered to match the way you experience the outdoors. Each, expertly equipped to get you out there - To the mountain ranges, the woodland trails, and the scenic shores. Your adventure begins in a Bronco Sport, and it never ends.
Preproduction CGI image shown. Aftermarket equipment shown. Available late 2020.
Explore the new Ford Bronco in Jersey City
The wait for the return of the Ford Bronco is soon over. Our team here at Stevens Jersey City Ford in Jersey City is excited about the models to come, and soon you can get either the 2-door or 4-door model of the new Bronco.
Bronco Sport
With room for up to five passengers and four models to choose from, the Bronco Sport comes standard with features such as 4x4, G.O.A.T. Modes, and a Terrain Management System that helps you go in a wide range of terrain.
G.O.A.T. or Goes Over Any Type of Terrain Modes allow you to choose from different drive modes such as Sand, Sport, and Eco to adjust the performance to changing terrain.
You can even equip your Bronco Sport with a Safari Style Roof that can fit up to two standing bikes and handle up to 150 pounds of cargo thanks to its steel roof. Compare the new Ford Bronco Sport to Toyota RAV4 to learn more!
Bronco
The Bronco comes in both two and four-door designs depending on your Newark style. The four-door model comes standard with a soft top that can be removed with ease to allow for a more open-air drive. The frameless doors on the new Bronco four-door can also be removed and stored as well in the cargo area.
The two-door model has a three-piece hardtop standard with one rear panel and two front panels that can be removed when needed on trips to New York, NY.
Inside each Bronco is an 8-inch touchscreen powered by the Sync 4 multimedia system. For Elizabeth drivers that want a larger screen, you can also opt for the 12-inch display as well. The Sync 4 system is even is loaded with the option of a navigation system that has some of the more famous off-road trails as well.
Passengers will love the spacious interior, and when you need the added cargo space, the second row folds down as well.
Learn More and Be the First to Test Drive a 2021 Ford Bronco
Which new Ford Bronco will you choose? We invite you to pre-order your new Bronco now to help ensure that you can have yours waiting. If you're unsure of what option to choose, our team can answer your questions about this upcoming SUV.