Preproduction model shown.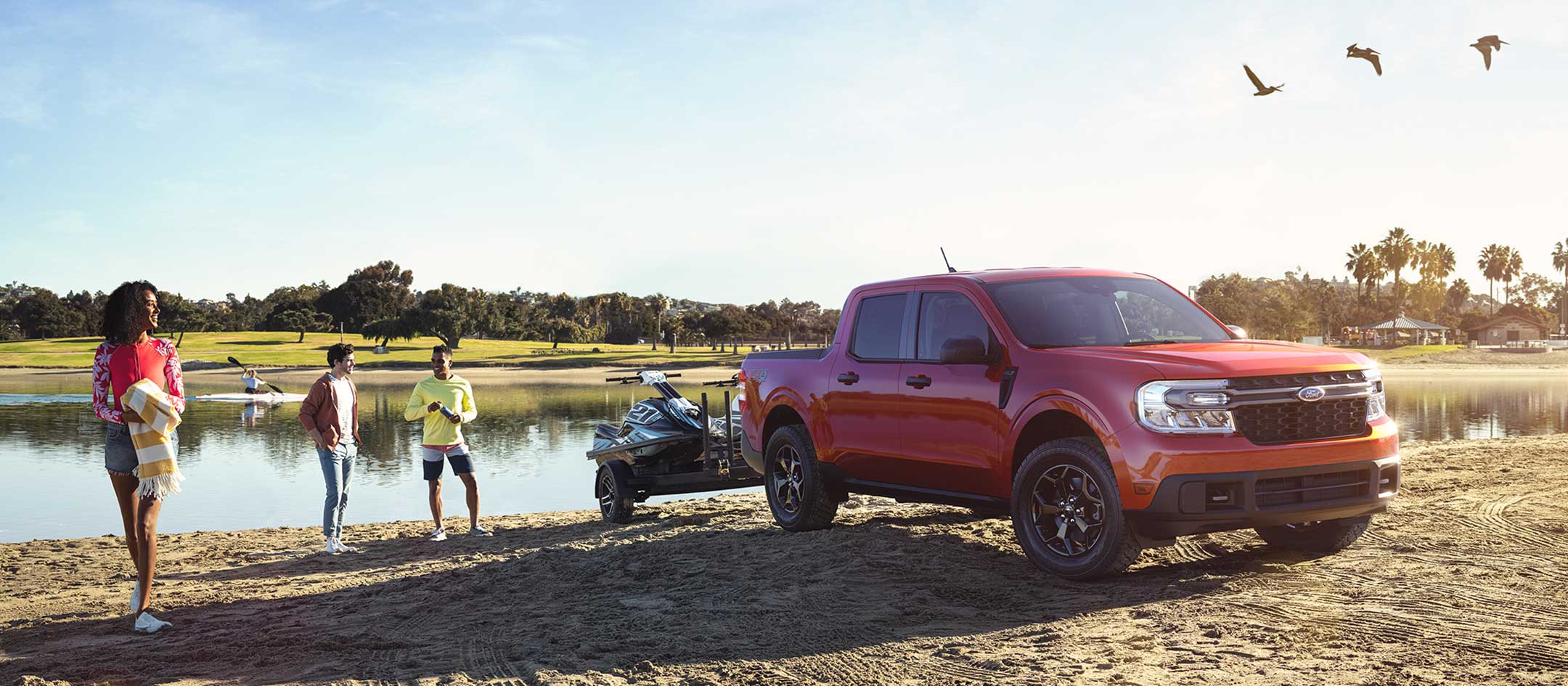 Online Reservation FAQs
What is a reservation?
A reservation lets you select your vehicle and be among the first to order a new Maverick truck from Ford. It is not an actual order and does not guarantee delivery.
What steps are required to complete my reservation?
Go online and select "Reserve Now," fill out the reservation form and submit your request to join the list for a new Maverick truck. A confirmation will display after the form is submitted and an email with be sent to the address in the reservation form.
When can I order my vehicle?
We will help you select and build your Maverick truck. We will also help you agree on pricing and finalize your order for production. The Maverick truck ordering window opens at the beginning of June 2021.
When will my vehicle be delivered?
Maverick truck production and deliveries to Ford Dealers will begin fall 2021. Actual delivery times may vary based on configuration selected, residency and demand. Once your vehicle is scheduled for production, you will receive further notification from us about its status.
Am I buying this vehicle directly from Ford?
No. The purchase agreement will be between you and Steven's Jersey City Ford, not you and Ford Motor Company. A deposit is not required from Ford to submit a reservation.
Get Ready for the 2022 Ford Maverick
The 2022 Ford Maverick is back after decades of hiatus. This small pickup truck still has the power you need to haul and tow work materials around Newark but has upgrade features for fun and entertainment.
Engine Performance
The 2022 Ford Maverick gets its power from two different engine options: a hybrid version and a gas-powered version. The hybrid Ford Maverick gets its power from a 2.5L four-cylinder engine and an electric motor pack that combines to produce 191 horsepower and 155 pound-feet of torque. This engine uses a continuously automatic transmission and throws its power to front-wheel drive.
But if you are not interested in a hybrid truck, the gas-powered version is more potent. This version gets its power from a 2.0L four-cylinder turbocharged engine that puts out 250 horsepower and 277 pound-feet of torque. This engine uses an eight-speed automatic transmission to throw its power to front- or all-wheel drive.
Modern Technology Features
Your long drives through the traffic in New York will be less aggravating with the entertainment features on the 2022 Ford Maverick. The 8-inch touchscreen on the center dashboard has many apps and driver's aids. You can connect your smartphone to the touchscreen using Apple CarPlay and Android Auto. This allows you to play your apps, music, and see your contacts on the touchscreen. The six-speaker audio system magnifies your music, drowning out the sounds of cabs honking their horns. The 4G LTE Wi-Fi hotspot allows your passengers to browse the Internet while on road trips. The two USB ports keep your devices charged.
The technology features provided by Ford's Sync 3 system help to create advanced safety features. These features will help to reduce your chance of getting into a car accident while driving around Elizabeth. The 2022 Ford Maverick comes with many standard and available advanced safety. These features include:
Blind spot monitor with rear cross-traffic alert
Lane keeping assist
Lane departure warning
Rear automatic braking
Evasive steering assist
Lane centering
Rear parking sensors
Reserve the 2022 Ford Maverick Today!
While this truck is not on our lot in Jersey City yet, it will be soon. If you would like to learn more about our upcoming 2022 Ford Maverick inventory or have any questions, visit us today! Anyone at Stevens Jersey City Ford is here to help walk you through the reserving process.
DISCLAIMERS
By completing the reservation process, you are not ordering or purchasing a vehicle. Participation in the program does not guarantee you vehicle delivery. Your reservation does not guarantee a set price for the vehicle.
*2.5L hybrid powertrain. Actual mileage will vary. Final EPA estimated ratings available later in the 2021 calendar year.
** Max payload varies and is based on accessories and vehicle configuration. See label on door jamb for carrying capacity of a specific vehicle.
† Max towing with available 2.0L EcoBoost and 4K Tow Package. Max towing varies based on cargo, vehicle configuration, accessories and number of passengers. EPA-estimated fuel economy, payload and towing are independent attributes and may not be achieved simultaneously.
Apple CarPlay is a trademark of Apple Inc., registered in the U.S. and other countries. Android Auto is a trademark of Google LLC.BANG & OLUFSEN© 2021 and B&O© 2021. BANG & OLUFSEN™ and B&O™ are registered trademarks of Bang & Olufsen Group. Licensed by Harman Becker Automotive Systems Manufacturing Kft. All rights reserved.