Preproduction computer-generated image shown throughout. Starting spring 2022.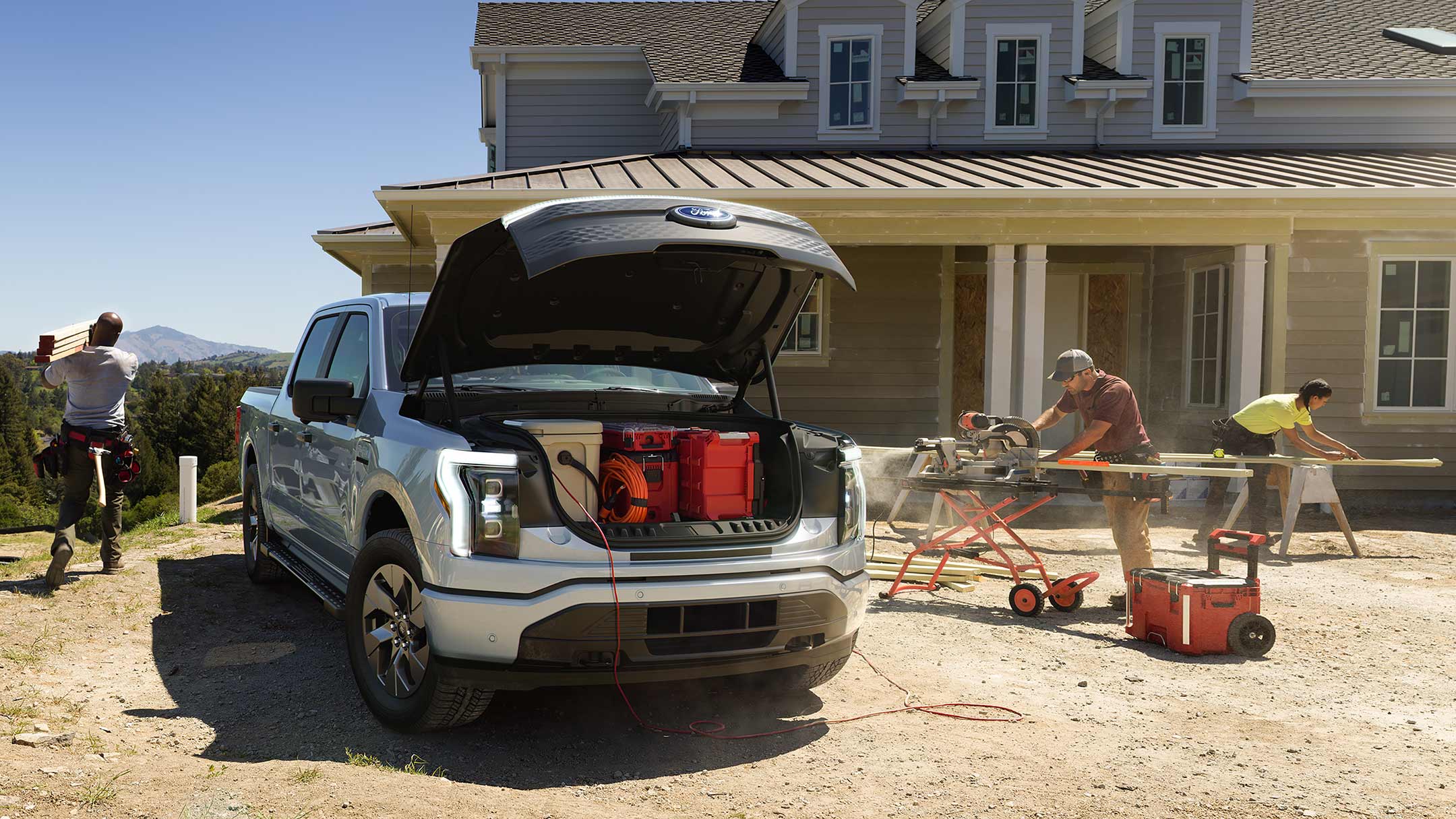 Online Reservation FAQs
What is a reservation?
A reservation lets you configure and be among the first to order a new all electric F-150 Lightning from Ford with a refundable Reservation Deposit. It is not an actual order and does not guarantee delivery.
What steps are required to complete my reservation?
Go online and select reserve now, create a Ford Account, select your preferred Ford EV Certified dealer and enter your credit/debit card details and address. A confirmation receipt will be sent to the email address you provide. *
What is a Ford Account and why do I need one?
A Ford Account lets you sign in to the Ford website to save and manage your personal and reservation information. You need to create a Ford Account to reserve your all electric F-150 Lightning. Reservations can also be tracked in your Ford Account at owner.ford.com/. *
Can I select any Ford Dealer?
To find the closest Ford EV Certified Dealer, go to the Ford.com and select 'Locate a Dealer'; insert zip code or type in Dealer name; select 'Advance Search'; check EV Certified.This will ensure EV Certified Ford Dealers are presented in your search results.
Can I make changes to my reservation?
Customers may reach out to Ford Customer Support at (800) 334-4375 for assistance in updating their dealer selection. In changing dealers, there will be no impact to a customer's reservation ID, vehicle details, or the associated timestamp.Is the $100 reservation fee refundable?
Yes, reservation fees are refunded with reservation cancellation. Allow seven to 10 business days for the reservation deposit to be credited to your original form of payment.
Will you share my reservation information with my dealer?
Your reservation information will be shared with the dealer you select at the time of reservation. Please see our privacy policy at ford.com/help/privacy for additional information.*
Can I cancel my reservation?
Yes. You can cancel your reservation at any time and receive a full refund.* You can do this in your account at ford.com. If for some reason you can't process the cancellation online, you can contact a Ford Customer Experience Representative at 800-392-3673 (Ford U.S.). After canceling, allow seven to 10 business days for the reservation deposit to be credited to your original form of payment. Once you progress from a reservation to an order with a dealer, however, cancellation requests would be at that dealer's discretion.
When can I order my vehicle?
You will be notified prior to when the  all electric F-150 Lightning ordering windows open to finalize and confirm your selection and agree on pricing with your dealer.
What is an online order?
An order sends your vehicle configuration to your selected Dealer who will then process your order request.By submitting an order and completing the order process, you are not purchasing a vehicle. Ordering does not guarantee you vehicle delivery. Your order does not guarantee a set-price for the vehicle.
Am I ordering this vehicle directly from Ford?
The all electric F-150 Lightning order is being placed on your behalf by your selected Ford EV Certified Dealer.
Can I call or visit my Dealer to place my order?
Yes, your Ford EV Certified Dealer can assist with submitting and processing your all electric F-150 Lightning order.
What happens to the reservation deposit once I order?
See your dealer for details. The reservation deposit should be credited or refunded by your dealer as part of the vehicle purchase process.*
Am I buying this vehicle directly from Ford?
No. The purchase agreement will be between you and the dealer, not you and Ford.
When will I take delivery of my vehicle?
You will be able to order your all-electric F-150 later this year. Production and deliveries will begin Spring 2022. Delivery times may vary based on vehicle model and configuration selected, residency and demand. Once your vehicle is scheduled, you will receive further notification.
How many reservations can I make and can I transfer my reservation?
Up to four reservations per account. Your reservation number is assigned to you and cannot be transferred.*
What price will I pay for my F150 Lightning?
The pricing for your vehicle will be finalized at time of order.  The entry model starts at $39,974 MSRP(commercial-oriented). More-equipped mid-series (XLT) starts at $52,974 MSRP, offering additional comfort and technology. MSRP starting at $39,974 up to around $90,474.1 This reservation does not guarantee you a specific price point.
DISCLAIMER: *By completing the Reservation Process, you are not ordering or purchasing a vehicle. Participation in the Program does not guarantee you vehicle delivery. Your Reservation does not guarantee a set price for the Vehicle.
Hard Work Made Easier with the 2022 Ford F-150 Lightning
The last thing New York and the surrounding areas need is any more harmful emissions in the air. Ford knows that but also knows that you need a heavy-duty truck to get you through your busy day. The 2022 Ford F-150 Lightning has all the features and power of a regular F-150 but does it as an electric truck.
Engine Performance
The 2022 Ford F-150 Lighting gets its power from a standard battery pack combined with a dual-motor that puts out 426 horsepower and 775 pound-feet of torque. There is also an optional extended-range battery that you could get instead. This larger battery puts out 563 horsepower and 775 pound-feet of torque. Both of these motors throw their power for all-wheel drive.
You can plug the truck into your house while you are in for the night or weekend. The convenient charging stations in store parking lots around the Newark area also fill your battery. So as you are shopping, you can charge your truck at the same time.
Exterior Design and Features
The larger battery can help you during your long day or even during inclement weather. If you need to use power tools but do not have anywhere to plug them in, the truck can power them. Suppose during a summer storm or winter blizzard you find yourself without power in your house. In that case, you can use the available Ford Intelligent Backup Power to fully power your home for up to three days on a fully charged battery.
The maximum towing capacity of 10,000 pounds allows you to tow your boat, RV, or trailer with no problems. The maximum payload rating of 2,000 pounds lets you haul your materials to and from worksites in Elizabeth.
Interior Space
There is plenty of storage in the cabin for your tools, groceries, or luggage for road trips. Inside the cabin, with all of the seats in place, the truck has 4.8 cubic feet of cargo space. But there are more cargo options, including a locking storage box under the rear seats. This makes it so that you can lock your packages out of sight if you do not want to carry them with you. Because the hood does not have the engine set up that a gas-powered Ford F-150 has, the space in the hood is now used for more cargo space. This front trunk adds 14 cubic feet of cargo space.
Reserve Your 2022 Ford F-150 Lightning Today!
While this truck is not on our lot in Jersey City yet, its debut is right around the corner! If you would like to learn about our upcoming 2021 Ford F-150 Lightning or have any questions about electric vehicles, visit us today!