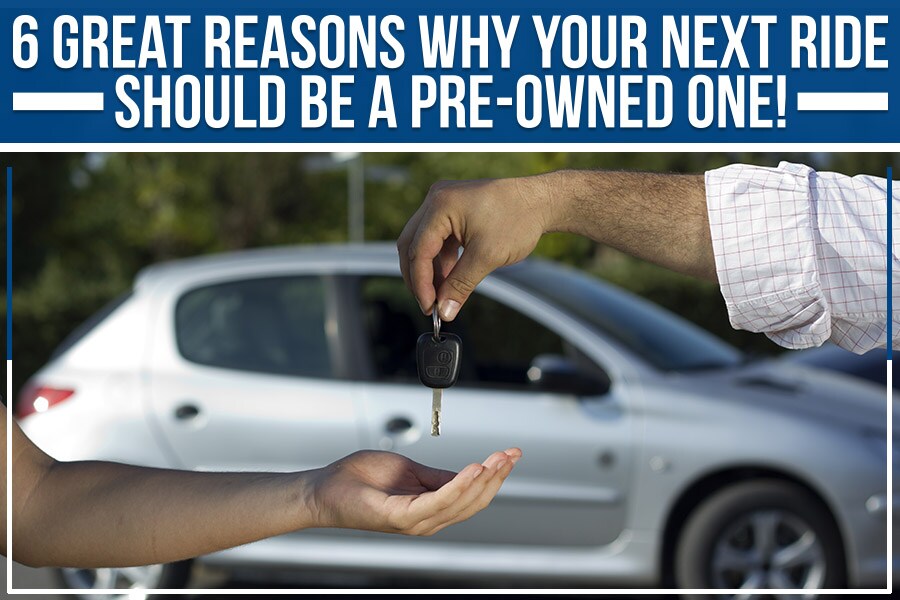 Do you automatically think of buying new when you enter an auto dealership with a new & pre-owned vehicle lineup? Many people do, but they may not know that buying a pre-owned car can be just as good. Here are six reasons why your next ride should be a pre-owned one!
1.

 

Pre-Owned Cars Are Cheaper than New Ones
When you buy a new car, you're paying for more than just the car itself. You're also paying for depreciation costs as soon as you drive it off the lot. A pre-owned car has already gone through that depreciation, so you can get a practically brand-new vehicle at a considerably lower price.
2.

 

You End up Saving Money
Since pre-owned cars are cheaper than new ones, you also save money on registration, insurance, and taxes. In some cases, you may even get insurance at a lower rate because a pre-owned car is less risky.
3.

 

Pre-Owned Cars Are More Affordable to Maintain
It can be expensive to keep a new car running in top condition. It's easy to rack up a hefty bill between regular maintenance, oil changes, and repairs. Former owners take care of the urgent maintenance before listing with a pre-owned car, so you can rest easy knowing your ride went through significant repairs recently.
4.

 

You Can Find a Great Deal
One of the best things about buying a pre-owned car is that you can find some incredible deals. Car dealerships and private sellers often have older models sitting on their lots for a fraction of the price of a new car. So, if you're looking for great value, a pre-owned car is the way to go.
5.

 

Get More Car for Your Money
Pre-owned cars often come packed with features and extras that you might not find on a new model. From leather seats to heated mirrors, the options are practically endless.
6.

 

Eliminate Long Manufacturing Lead Times
If you're impatient, you'll love that pre-owned car doesn't require long wait times. In most cases, you can find and buy the car of your dreams within a few days without waiting months for it to be built.


Whether you're looking for a sedan, SUV, truck, or something else entirely, we are confident that we can find the perfect pre-owned ride for you. Plus, thanks to our competitive prices and friendly sales team, buying a pre-owned car doesn't have to be expensive or complicated.


Stevens Jersey City Ford GMB, serving Lodi, NJ, is proud to offer a wide selection of pre-owned cars. The market is pretty favorable towards buying used; hence we have an impressive inventory of well-maintained pre-owned vehicles.


Get in touch with us today for financing & trade-in appraisal regarding your new preowned!